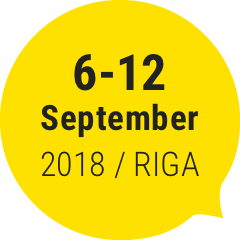 Programme
Terrain Vague
Jon Law
8 September 15.00 - 20.00 Different locations in Pārdaugava | 8 September 22.00 Eduarda Smiļģa Theatre Museum, Eduarda Smiļģa st. 37-39 | Free entrance
This site-specific sound installation and live concert by British musician and sound artist Jon Law is developed from a series of psycho-geographic journeys across the city of Riga in which Law – through research, photography and field recording – engaged with a series of liminal public spaces. For Terrain Vague he chose four structures / locations with no clear practical or aesthetic function. Each will host a composition inspired by and generated from these very particular places re-engaging us with otherwise neglected sites in our urban landscape.
Each composition will be part of a larger, interconnected soundscape that will be performed live at the Festival Centre in Eduarda Smiļģa Theatre Museum on 8 September, 22.00.
About the artist
Jon Law is a UK-based musician and sound artist who creates immersive sound installations and performances that make extensive use of field recordings and room tone. His works are often realised in unconventional sites because of his practice of recording, manipulating and re-introducing field recordings into their space of origin.
Law holds an MA in Fine Art and his practice is highly collaborative, working with visual artists to probe the fertile territory between sonic and visual arts. Since 2014 his performances and artwork have been featured in several group and solo exhibitions in the UK, Ireland and Italy.
Credits
Idea and realisation: Jon Law
Dramaturgy consultant: Thomas Frank
Production: Katrīna Dūka, New Theatre Institute of Latvia
Developed at the residency programme of the international platform Magic Carpets
Different locations in Pārdaugava
Eduarda Smiļģa Theatre Museum
Address
Eduarda Smiļģa Theatre Museum
Map with locations available at the Festival centre in Eduarda Smiļģa Theatre Museum on 8 September from 14.30 till 19.00. We recommend going on tour on bikes.