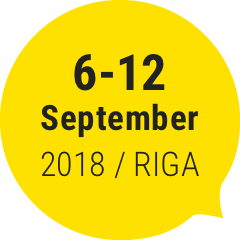 Programme
My Heart is a Void. The Void is a Mirror - Riga Episode
Gian Maria Tosatti
6, 7, 10, 11, 12 September 17.00-20.00 Former Textile Factory Boļševička, Ganību dambis 30 | 8, 9 September 15.00-20.00 Former textile factory Boļševička, Ganību dambis 30 | Free entrance
My Heart is a Void. The Void is a Mirror is an ongoing project of installations by Italian artist Gian Maria Tosatti. Embarked upon a journey around distinct European cities, he witnesses the present state of our civilization and writes a new visual novel for each one of them.
Europe is typically perceived as a confederation of states in peace and prosperity. The truth is quite different… The continent still experiences – and is perhaps culturally disposed for war, ethnic cleansing, the destruction of cities. Is the delicate historical passage through which we currently travel purely a trauma or an opportunity? Is it the funeral of our civilization or its rebirth?
My Heart is a Void. The Void is a Mirror – Riga Episode is the series' second iteration. The first recently debuted in Catania as a collateral event of Manifesta 12.
About the artist
Gian Maria Tosatti is an Italian artist who creates site-specific installations. Tosatti made his first steps into the art world at the Centre for Theatrical Research and Experimentation working on performances, but later undertook an artistic research between architecture and visual arts which inspired all his subsequent works resulting in site-specific installations.
His projects usually are long term investigations on specific topics related to the concept of identity from the political and spiritual standpoint. Tosatti is also a journalist and he writes essays about art and politics. His work has been featured in solo and group exhibitions in Italy, the USA, Cuba and Israel. Tosatti has won several art prizes and his exhibitions have been critically acclaimed by art magazines ArtReview, Domus and Artribune.
Credits
Concept and realisation: Gian Maria Tosatti
Assistants: Elīna Valdmane, Lucas Memmola
Production: Katrīna Dūka, New Theatre Institute of Latvia
Developed at the residency programme of the international platform Magic Carpets
6, 7, 10, 11, 12
September
Former Textile Factory Boļševička
Address
Former Textile Factory Boļševička
Performative installation for one spectator at a time.
Supported by