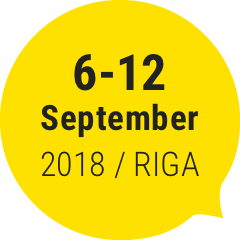 Programme
Unknown Unknown
Oliver Christophe Leith, Viesturs Meikšāns
10, 11, 12 September 19.00, Concert Hall Tu jau zini Kur, Tallinas st. 10-3 | Sold out
The new original opera devised by British composer Oliver Christophe Leith, Latvian director Viesturs Meikšāns and German dramaturg Kornelius Paede reflects upon the transition from Anthropocene to Post-anthropocene, sharing factual, personal and artistic commentary on how civilisation has reached the tipping point.
The score is based on a sophisticated co-existence of academic music and electronics, live and artificial voice; the plot interprets our recent history with harsh irony and distant observation; the form is a collision of dense video images that burn the eyes and the mind, and quiet moments amidst peaceful and steady natural landscape.
About the artist
Oliver Christophe Leith is a London based composer making acoustic music, electronic music and video. He was the recipient of a British Composer Award in 2016 and of the Royal Philharmonic Composition prize 2014. His work focuses on text, video, theatre and tangible human themes. Recent pieces have taken their beginnings in internet culture and authenticity. Music and videos have been performed by the likes of the London Symphony Orchestra, London Sinfonietta, Philharmonia Orchestra, Opera North Orchestra, plus-minus ensemble, the Ives ensemble, John Harle, Loré Lixenberg, Matthew Herbert, Explorensemble, KSQ and Exaudi. He is a fan of scientific illustrations, gardening, film, tapestry, terrible televison and the visceral.
Latvian theatre and opera director Viesturs Meikšāns has studied at the University of Trier in Germany and graduated with excellence the Concordia International University in Estonia, receiving diploma in business administration and marketing. He acquired the art of theatre directing at the Latvian Academy of Culture. His directorial career at the Valmiera Theatre includes productions Phantom Pains (2008), Marionettes (2008), The Golden Horse (2009), Floods and Solstices by the Sounds of Straumēni (2010), Wine and Weeds (2011) and Egoists (2012). For the the productions of Phantom Pains and Marionettes iesturs Meikšāns has received National Award as the Young stage artist of the year. The Golden Horse won the newspaper Diena Annual Cultural award. Floods and Solstices by the Sounds of Straumēni brought Viesturs Meikšāns the National Award as the Best stage director of the year and the Best stage director award of the Novgorod Kingfestival. Viesturs Meikšāns has successfully worked at the theatre Skatuve, the Latvian New Theatre Institute, the Latvian National Theatre and the MHAT theatre in Moscow.
Credits
Composer: Oliver Christophe Leith
Direction, dramaturgy, set design: Viesturs Meikšāns
Assistants: Roberts Dauburs, Henrijs Arājs
Dramaturgy: Kornelius Paede
Video: Andris Vētra -8
Video assistant: Diāna Mikanova
Lights: Rainers Kornhubers
Sound: Tālis Timrots
Sound assistant: Vladimirs Stebeļkovs
Costumes: Anta Aizupe
Performance: string quartet JUNO
Soloists: Armands Siliņš, Jolanta Strikaite, Edgars Auniņš
Performers: Ilva Centere, Anta Aizupe
Production: Sandra Lapkovska, New Theatre Institute of Latvia
Co-production: Valmiera summer theatre festival, festival of alternative music "Sansusī"
Concert Hall Tu jau zini Kur
Language
In Latvian and English
Supported by