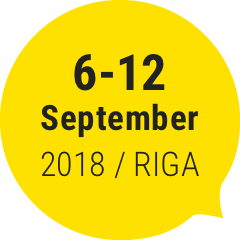 Programme
Narrow Margins of a Normative Lifestyle
Matīss Gricmanis
10 September 18.00, RISEBA Architecture and Media Centre H2O, Ūdens st. 6 | Free entrance
This work-in-progress stage reading introduces new work by Latvian author Matīss Gricmanis exploring lives of homosexuals in Soviet Latvia. The work is inspired by the phenomena of the legendary bar Skapis (The Closet) and the diaries and archives of Latvian homosexual Kaspars Irbe. Sixty volumes show the secret and public aspects of daily routine of Irbe and his associates, gays and prostitutes of Riga, register the collapse of the Soviet era and decriminalization of homosexual relations when Irbe was 88. It's a story about the times when the private became the most private and the collective became omnipresent.
In collaboration with the Lithuanian National Drama Theatre's Contemporary Dramaturgy Festival and creative platform for devising new dramaturgy Versmė.
About the artist
Matīss Gricmanis is Latvian writer, dramaturg and theatre maker. He has revealed his personal experience of being a member of the far-right political party in Latvia in the Dirty Deal Teatro performance To Be a Nationalist (director Valters Sīlis). Author of the script of the latest feature film The Mover by director Dāvis Sīmanis about Latvian Žanis Lipke who rescued numerous Jewish people during the WWII.
Credits
Author: Matīss Gricmanis
Performers: Ģirts Krūmiņš, Ance Strazda, Matīss Gricmanis
Adviser: Valters Sīlis
Video: Elizabete Mežule-Gricmane
Sound: Gatis Grāvers
Production: Agnė Pulokaitė, Lithuanian National Drama Theatre
RISEBA Architecture and Media Centre H2O
New Baltic Dramaturgy Programme
Language
In Latvian with English synopsis
Supported by