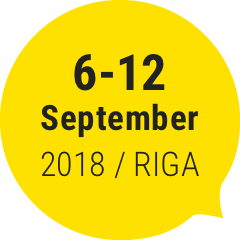 Programme
MDLSX
Motus
8, 9 September 20.00, RISEBA Architecture and Media Centre H2O Ūdens st. 6 | Sold out
When identity and gender definitions are stripped away, who do you see?
In a partly-autobiographical monologue, Premio Ubu winner Silvia Calderoni peels away layers of scientific and historical convention and challenges the audience to re-imagine individual identity beyond the definitions of gender binaries. Combining their own androgynous physicality with texts based on personal, researched and fictional experience, projected home movies, interviews and a powerful, live DJ'd soundtrack, Calderoni presents a visceral and delicately balanced depiction of the violence, bewilderment and emotional unravelling of an individual.
About the artist
Motus, an Italian theatre company founded in 1991, independently produces shows and space–specific happenings that blend theatre, dance, video, visual art and poetry, sharply reacting to current events and highlighting the contradictions of today's world. For Motus there are no borders between countries, eras or disciplines, and no separation between art and involvement in society. Motus founders Enrico Casagrande and Daniela Nicolò often draw inspiration from political and social events related to urban culture, and leave the stage to dive into the city in a search for new material and to perform in the streets.
Credits
Idea and direction: Enrico Casagrande and Daniela Nicolò
Performance: Silvia Calderoni
Dramaturgy: Daniela Nicolò and Silvia Calderoni
Sound: Enrico Casagrande in collaboration with Paolo Panella and Damiano Bagli
Lights and video: Alessio Spirli
Production: Elisa Bartolucci
Logistics: Shaila Chenet
Communication: Marta Lovato and Estelle Coulon
International distribution: Lisa Gilardino
Production: Motus in collaboration with La Villette – Résidence d'artistes 2015 Parigi, Create to Connect (EU project)
With the support of MiBACT, Regione Emilia Romagna
Premiere in 2015
RISEBA Architecture and Media Centre H2O
Language
In Italian with Latvian and English subtitles
Address
Contains nudity and strobe lights