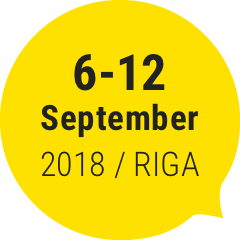 Programme
Spaces of Becoming
Elīna Lutce, Rósa Ómarsdóttir, Mira Kautto
6, 7 September 18.00 Eduarda Smiļģa Theatre Museum | Sold out
Elīna Lutce, Rósa Ómarsdóttir and Mira Kautto first met in May during a residency oragnized by New Theatre Institute of Latvia in Liepāja concert hall. In Riga, the three young choreographers will further explore their common interest in a different definition of space – one which is not colonized, mapped and made of use, but rather is experienced as heterogenous, excessive, imperceptible, in other words, feminine.
"Spaces of Becoming" is a piece in three solo episodes – each artist will present an individual work and will take spectators to one of the peripheric spaces of Smiļģis museum. Encounters with time, space, plants, darkness and ghosts delivered by three charismatic performers.
About the artist
Elīna Lutce studied dance at the Latvian Academy of Culture and lives in Riga. Since 2015 she has been working as choreographer on numerous theatre and opera productions in a close collaboration with Latvian theatre director Viesturs Kairišs and set designers Krista and Reinis Dzudzilo. She has performed in productions of contact Gonzo, Koen Augustijnen, Branko Potočan, Willi Dorner. Elīna is one of the participating artists of the Baltic Triennale this year.
Rósa Ómarsdóttir is an Icelandic choreographer, performer and activist who after graduation of P.A.R.T.S. dance school has been based in Brussels. She has made several performances together with Inga Huld Hákonardóttir: a.o. The Valley (2015) for which they received the Icelandic Theatre Awards and Da Da Dans (2016) a production for the Icelandic Dance Company, celebrating the 100 year anniversary of the dada movement. In her work she investigates the relationship between sound and movements with a special focus on ambiguity and the concept of the uncanny valley.
Mira Kautto is a dance artist based in Helsinki, who makes dances mostly by choreographing, performing and teaching. She is also a a member of a performance radio Esitysradio and curates UrbanApa festival. For several years Mira was part of artistic collective "Immigrants and animals" together with Jamila Johnson-Small, currently she works as a performer with Sonja Jokiniemi and Janina Rajakangas. At the moment Mira is excited about imagining (often ridiculous) things and works on a new solo which will deals with experiencing nostalgia.
Credits
Choreographers and performers: Elīna Lutce, Rósa Ómarsdóttir, Mira Kautto
Dramaturg: Ana Dubljević
Producer: Laura Stšāne, New Theatre Institute of Latvia
Residency: Liepāja concert hall "Great Amber"
Eduarda Smiļģa Theatre Museum
Eduarda Smiļģa Theatre Museum