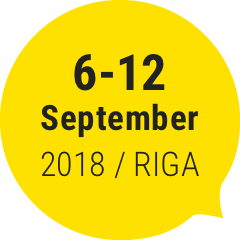 Programme
Hello Useless - for W and Friends
Benny Claessens
7, 8 September 20.00 Dirty Deal Teatro, Talsu st. 1 | Sold out
Hello Useless – for W and Friends is a solo performance about stopping which attempts to be utterly meaningless. In truth however, Claessens has created a radical, deeply touching portrait of an artist balancing between the need to be active and useful, and the desire to turn away and do nothing regarded as important in our society.
For this solo, Benny returns to the base. At once honest and intimate, exuberant and ecstatic, he creates moments of apparent meaning entirely out of context – simply presents them – and in doing so opens them and us to new interpretation. Without critique, judgement or grandstanding, his humble existence in front of three glittering letters JOY somehow stretches toward the essence of our humanity.
"I consider Hello Useless – For W and Friends a celebration of uselessness. On an existential level, that is. It doesn't matter whether art is necessary or not. Nothing is. But why shouldn't it exist?" Benny Claessens in VETO Magazine.
About the artist
Benny Claessens is Flemish actor and theatre maker. From 2003 till 2006 he worked in Toneelhuis Antwerp with directors such as Luk Perceval, Tom Jansen and Josse De Pauw. From 2006 till 2010 he worked as a freelancer at CAMPO, les ballets C de la B, Ultima Vez and Schaubühne am Lehniner Platz. For his role in Ritter Dene Voss by Dood Paard he received the Arlecchino Theatre Prize in Amsterdam in 2009. From 2010 till 2015 Benny was a member of the ensemble of the Münchner Kammerspiele where he worked with directors such as Alvis Hermanis, René Pollesch and Johan Simons. Currently he collaborates with different companies and develops his own theatrical work.
Credits
Concept, direction & performance: Benny Claessens
Music: Simon Lenski
Production: CAMPO
Co-production: NTGent
Premiere in 2016
For Bert Neumann