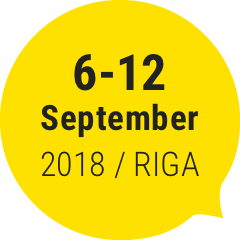 Programme
Nocturne
Krista Burāne, Andy Field
7, 8, 9 September 20.00, Daugavas Branch Library, Aviācijas street 15 | Sold out
Nocturne is a journey into the wild side of the city and encounter with the creatures that reside there. As the sun departs and darkness forms audiences are invited to disappear into the underworld, slipping through the concrete and electricity, streetlights and supermarkets in search of something other. Within the shadows and undergrowth we are drawn to a stranger and less familiar place where perspectives shift on our urban landscape.
Created by an international team of artists led by Latvian director Krista Burāne and British maker Andy Field, Nocturne is a different kind of theatrical encounter. Part performance, part walk, part workshop, it is a song of the night and it's invisible inhabitants.
About the artists
In her work Latvian activist, writer, theatre and film maker Krista Burāne is testing different ways of collaboration with the audience by offering space and time for mutually respectful conversation. Krista is one of the few Latvian artists engaged in the research and practice of documentary and reality theatre.
Andy Field is a theatremaker, curator, and co-director of the multi-award winning collective Forest Fringe. He has created and toured his own contemporary performance work across the UK, Europe and the US. Andy also writes regularly on performance for a number of publications and in 2012 completed a PhD with the University of Exeter exploring the relationship between contemporary performance practice and the New York avant-gardes of the 1960s and 1970s.
Credits
Idea and direction: Krista Burāne, Andy Field
Co-creators: Ieva Kauliņa, Erik Eriksson
Performance: Eva Kronberga, Eva Krūmiņa, Agnese Bordjukova, Ieva Gaurilčikaite, Santa Grīnfelde, Rūdolfs Gediņš, Krišjānis Sants, Artūrs Čukurs, Ivars Broničs, Ģirts Bisenieks
Production: Linda Pēterkopa, Klinta Harju, New Theatre Institute of Latvia
Co-production: LIFT, LOKAL
Daugavas Branch of Riga Central Library
Language
In Latvian or English
Address
This is participatory outdoor performance involving physical activity
Supported by