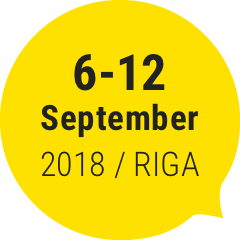 Programme
Leap Second
Māra Gaņģe, Kate Krolle
9 September 17.00, Former Publishing House, Balasta dambis 2 | 10, 11 September 18.00, Former Publishing House, Balasta dambis 2 | Sold out
Leap second is an extra second added to clocks worldwide every few years since 1972. In reality it means that clocks are effectively stopped for a second to give Earth the opportunity to catch up since the velocity of it's rotation does not match the speed of atomic time. Its a tiny bit too slow and it keeps slowing down. Atomic clocks, however, tick away at pretty much the same speed over millions of years. What do we acknowledge more – the perfection or the natural path?
The first collaboration of Latvian object / visual theatre director Mara Gaņģe and video / performance artist Kate Krolle reflects upon relationships of time – lifespan and to different practices of repairing, fixing and improving.
About the artist
Māra Gaņģe is Latvian theatre director who works with puppet theatre and creates her own puppets. She holds a MA in Theatre Art and continues to develop her unique puppet theatre language, including experiments in blending contemporary dance and puppetry. Gaņģe is interested in visuality and visual theatre, as well as puppets and materiality — from the inanimate objects to the materiality of human body.
Kate Krolle is a graduate of the Art Academy of Latvia and the post-graduate of the Audiovisual research centre Le Fresnoy in France, where she has received the Les amis du Fresnoy award. Using a variety of media, the artist examines the relationship between nature and human life along with experience and instincts, as well as loneliness as a permanent state of human being. To capture the fragile and obscure nature of Kate's work time and contemplation skill is required.
Credits
Idea and realisation: Māra Gaņģe, Kate Krolle
With Uldis Ēlerts, Kaspars Brokāns, Natālija Bakanova, Maksims Vēzis-Veiss
Light designer: Jūlija Bondarenko
Sound designer: Reinis Semēvics, Augusts Zariņš
Dramaturgy consultant: Thomas Frank
Production: Laura Stašāne, Katrīna Dūka, New Theatre Institute of Latvia
Developed at the residency programme of the international platform Magic Carpets
Address
Former Publishing House
Supported by