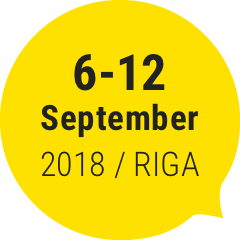 Programme
What Nature Says
Myriam Van Imschoot
11, 12 September 19.00, Dirty Deal Teatro, Talsu st. 1 | Sold out
What does nature say? To find out, Myriam Van Imschoot visited a zoo, used a tuning fork to listen to a motorway, discovered birds that sound like chainsaws or can imitate the ringtones of mobile phones, and saw crocodiles in Australia (but couldn't hear them…).
Drawing on a variety of field recordings, five performers – coming from the noise-underground scene to pop – replicate these various sounds, using only their voices. In front of audience they create an a cappella rendition of the planet's soundscapes and what is too often simply the white-noise of the world.
What Nature Says is a radiophonic performance, a show in which our notions of humanity, nature and machines are called into question.
About the artist
Flemish artist Myriam Van Imschoot makes performances, creates sound poetry and vocal pieces, exhibits video and sound installations. She holds a unique position in the Belgian art field, moving between institutional fields and media, with a keen interest to experiment with contexts when not creating her own. Myriam Van Imschoot's intermedial approach is based on gestures, phenomena, and voices that have been lost or remain unnoticed.
Credits
Concept and direction: Myriam Van Imschoot
Sound installation: Fabrice Moinet, Myriam Van Imschoot
Performance and co-creation: Jean-Baptiste Veyret-Logerias, Caroline Daish, Anne-Laure Pigache, Jakob Ampe, Mat Pogo
Lights: Geni Diez
Production: Hiros
Co-production: Kunstencentrum Buda, Kaaitheater, Kunstenwerkplaats Pianofabriek in collaboration with PACT Zollverein
Premiere in 2015
Address
Not suitable for children under 10